$29.99
AUD
$35.00
(14% off)
Category: Self Help
In 12 Rules for Life, public thinker and clinical psychologist Jordan B. Peterson offered an antidote to the chaos in our lives- eternal truths applied to modern anxieties. Now in this sequel, Peterson goes further, showing that part of life's meaning comes from reaching out into the domain beyond what we know, and adapting to an ever-transforming world. While an excess of chaos threatens us with uncertainty, an excess of order leads to a lack of curiosity and creative vitality. Beyond Order therefore calls on us to balance the two fundamental principles of reality - order and chaos -- and reveals the meaning that can be found on the path that divides them. In times of instability and suffering, Peterson reminds us that there are sources of strength on which we can all draw- insights borrowed from psychology, philosophy, and humanity's greatest myths and stories. Drawing on the hard-won truths of ancient wisdom, as well as deeply personal lessons from his own life and clinical practice, Peterson offers twelve new principles to guide readers towards a more courageous, truthful and meaningful life.   ...Show more
$32.99
AUD
$34.99
(5% off)
Category: Self Help
Jess Eva wants to change your life. She can't promise to make you rich, quick-fix your relationships or help you lose weight. But she is going to show how to relax, get out of your own head (and others') and start to see life as one big adventure. Instead of focusing on what you should be doing, she'll show you how to do all those things you really want to - because why wouldn't ya? As Jess will show you, through her humour, mad stories, and down-to-earth wisdom, the worst that could happen is you'll end up with a bloody good story to tell. ...Show more
$32.99
AUD
$35.00
(5% off)
Category: Mind Body Spirit
The Sunday Times Bestseller and New York Times Bestseller. A book of hope for uncertain times. 'Feeling a little blue? Meet the new Winnie the Pooh.' The Daily Mail 'A wonderful work of art and a wonderful window into the human heart' Richard Curtis Enter the world of Charlie's four unlikely friends, di scover their story and their most important life lessons. The conversations of the boy, the mole, the fox and the horse have been shared thousands of times online, recreated in school art classes, hung on hospital walls and turned into tattoos. In Charlie's first book, you will find his most-loved illustrations and some new ones too.     ...Show more
$29.99
AUD
$34.99
(14% off)
Category: Self Help
In This One Wild and Precious Life, Sarah Wilson explores the central disorder of modern existence: disconnection from ourselves, disconnection from community, disconnection from the preciousness of life on this planet  This One Wild and Precious Life is a journey of the soul, a case for why we need to cast off our too-tight psychic apparel and step bravely into the uncertainty of 'giving a fuck', the whirlpool of finding purpose, and the perilousness of connecting fully, passionately and unequivocally to life again. Sarah's journey pivots from her own anxiety and feeling of disconnection, as she takes the reader on a three-year odyssey to reconnect with the life she feels we are losing via a series of hikes around the world. Throughout, she brings together science and spiritual understandings ('East meets West'), following in the footsteps of artists, poets and philosophers, to amplify the conversation that the world wants and needs to have right now. Elegantly written and uncannily prescient, this is the perfect book for this difficult era of climate carnage and COVID-19, that goes well beyond the data and the political toing and froing, a compelling argument for turning collective crises and shared malaise into rocket fuel for personal and social transformation. And a better world.   ...Show more
$32.99
AUD
$35.00
(5% off)
Category: Mind Body Spirit
NEW YORK TIMES BESTSELLER 'A supremely practical and useful book.' Mark Manson, author of The Subtle Art of Not Giving A F*ck  A revolutionary system to get 1 per cent better every day. People think when you want to change your life, you need to think big. But world-renowned habits expert James Clear has discovered another way. He knows that real change comes from the compound effect of hundreds of small decisions - doing two push-ups a day, waking up five minutes early, or holding a single short phone call. He calls them atomic habits. In this ground-breaking book, Clears reveals exactly how these minuscule changes can grow into such life-altering outcomes. He uncovers a handful of simple life hacks (the forgotten art of Habit Stacking, the unexpected power of the Two Minute Rule, or the trick to entering the Goldilocks Zone), and delves into cutting-edge psychology and neuroscience to explain why they matter. Along the way, he tells inspiring stories of Olympic gold medalists, leading CEOs, and distinguished scientists who have used the science of tiny habits to stay productive, motivated, and happy. These small changes will have a revolutionary effect on your career, your relationships, and your life. 'James Clear has spent years honing the art and studying the science of habits. This engaging, hands-on book is the guide you need to break bad routines and make good ones.' Adam Grant, author of Originals 'A special book that will change how you approach your day and live your life.' Ryan Holiday, author of The Obstacle is the Way ...Show more
$31.50
AUD
$32.99
(4% off)
Category: Mind Body Spirit
Ever wondered whether change is possible? Respected businesswoman Stacey Currie is proof that it is. Raised in housing commission accommodation, Stacey was pregnant at 15. At 19, she had two kids and was homeless. At 21, authorities gave her a stark choice- leave her abusive partner and go into counsell ing or lose her three kids to foster care. Stacey had to make big changes. When all she knew was battling, figuring out goals for her 'new life' seemed impossible. Starting with what she didn't want, she got rid of one unhelpful habit after another. Now a qualified leadership coach and mentor, the happily married mother of five shares how she turned her life around.Each chapter of Good Riddance focuses on a habit Stacey once had things like blaming others, hanging on to limiting beliefs, being addicted to drama and shows how she got herself unstuck. With her no-bullshit style and humour, Stacey is the life coach you've always needed. Her explanations, exercises and prompts will see you regain hope, lose your baggage and set up a new chapter in your life.Say good riddance to bad rubbish and start living the life you really want.   ...Show more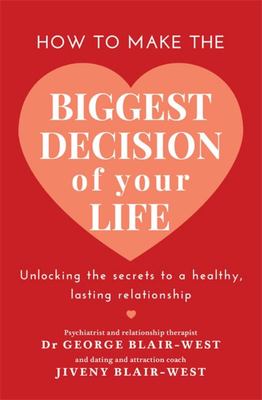 $31.50
AUD
$32.99
(4% off)
Category: Self Help
Choosing to marry and share your life with someone is one of the most important decisions you can make in life. But with divorce rates approaching 50 per cent in some parts of the world, it's clear many of us need some help picking a partner. In this easy-to-read guide, psychiatrist George Blair-West an d relationship coach Jiveny Blair-West unlock the secrets to making the biggest decision of your life. Think about it. Why is it that we often put more conscious thought into choosing a car than choosing who will be our partner? This book will help you understand what drives your attraction and how to break bad habits by revealing:How attraction works How we can make sense of the unconscious and conscious forces that lead us into our relationships How to avoid marrying people who are a poor match How we can better choose the other parent of our childrenAll meaningful change in life begins with a deepening of understanding, a raising of self-awareness and consciousness. George and Jiveny provide the knowledge to make the unconscious conscious, and give you more power over your relationship destiny. ...Show more
$31.50
AUD
$32.99
(4% off)
Category: Relationships | Reading Level: near fine
We're more connected, yet lonelier than ever - practical ways to combat the alarming rise of loneliness by bestselling author and social researcher, Maggie Hamilton. Practical solutions to combat social isolation in our families and communities.  
$9.99
AUD
$29.99
(66% off)
Category: Self Help | Series: Mira Ser.
Blurb for this title will be coming soon. Please check again shortly.
$32.99
AUD
$34.99
(5% off)
Category: Self Help | Series: Anxiety
'I loved this book.' Matt Haig, author of Reasons to Stay Alive 'Probably the best book on living with anxiety that I've ever read.' Mark Manson, author of The Subtle Art of Not Giving a F*ck If you have anxiety, this book is for you. If you love someone who is anxious, this book is for you. I Quit S ugar founder and New York Times bestselling author Sarah Wilson has lived through high anxiety - including bipolar, OCD and several suicide attempts - her whole life. Perhaps like you, she grew tired of seeing anxiety as a disease that must be medicated into submission. Could anxiety be re-sewn, she asked, into a thing of beauty? So began a seven-year journey to find a more meaningful and helpful take on anxiety. Living out of two suitcases, Sarah travelled the world, meeting with His Holiness The Dalai Lama, with Oprah's life coach, with major mental health organizations and hundreds of others in a quest to unravel the knotted ball of wool that is the anxious condition. She emerged with the very best philosophy, science and hacks for thriving with the beast. First, We Make the Beast Beautiful is a book with a big heart, paving the way for richer, kinder and wiser conversations about anxiety. ...Show more
Flourish
by Martin Seligman
$18.99
AUD
$19.99
(5% off)
Category: Mind Body Spirit
"Flourish-A new understanding of Life's Greatest Goals- and what it takes to reach them. In this groundbreaking book, one of the world's foremost academic psychologists- and founder of the Positive Psychology movement- offers a new theory on what makes people flourish and how to truly get the most out o f life. Eight years have passed since the publication of Dr Seligman's internationally bestselling Authentic Happiness. As a highly esteemed psychologist, Dr Seligman has been on the cutting edge of psychological research for over two decades, pioneering a science that improves people's lives. And now, with his most life-changing book yet, Flourish,he offers a new theory of individual satisfaction and global purpose. In a fascinating evolution of thought, Flourish,refines what Positive Psychologyis all about and offers inspiring stories of Positive Psychology in action- innovative schools that add resilience to their curricula, with a case study of Geelong Grammar in particular- a new theory of success and intelligence; and evidence on how positive physical health can turn medicine on its head. Building on his game-changing work on optim ...Show more
$29.99
AUD
$34.99
(14% off)
Category: Mind Body Spirit
New Book by International Bestselling Author Rhonda Byrne. The Greatest Secret, the long-awaited major work by Rhonda Byrne, lays out the next quantum leap in a journey that will take the reader beyond the material world and into the spiritual realm, where all possibilities exist.  The book reflects Rh onda's own journey, and shares the most direct way out for those experiencing hardship and the path to end pain and suffering endured by so many, and shines a light on a future without anxiety or fear. Filled with accessible practices that can be immediately put to use and profound revelations that take the reader on an incomparable journey, Rhonda's discovery is reinforced throughout by the revelatory words of sages from around the world, past and present. ...Show more