$21.99
AUD
$22.99
(4% off)
Category: Sci-Fi/Fantasy | Series: King of Scars
The wolves are circling and a young king will face his greatest challenge in the explosive finale of the instant #1 New York Times-bestselling King of Scars Duology. The Grishaverse will be coming to Netflix soon with Shadow and Bone, an original series! The Demon King. As Fjerda's massive army prepar es to invade, Nikolai Lantsov will summon every bit of his ingenuity and charm - and even the monster within - to win this fight. But a dark threat looms that cannot be defeated by a young king's gift for the impossible. The Stormwitch. Zoya Nazyalensky has lost too much to war. She saw her mentor die and her worst enemy resurrected, and she refuses to bury another friend. Now duty demands she embrace her powers to become the weapon her country needs. No matter the cost. The Queen of Mourning. Deep undercover, Nina Zenik risks discovery and death as she wages war on Fjerda from inside its capital. But her desire for revenge may cost her country its chance at freedom and Nina the chance to heal her grieving heart. King. General. Spy. Together they must find a way to forge a future in the darkness. Or watch a nation fall. Read all the books in the Grishaverse! The Shadow and Bone Trilogy (previously published as The Grisha Trilogy) Shadow and Bone Siege and Storm Ruin and Rising The Six of Crows Duology Six of Crows Crooked Kingdom The King of Scars Duology King of Scars Rule of Wolves The Language of Thorns The Lives of Saints ...Show more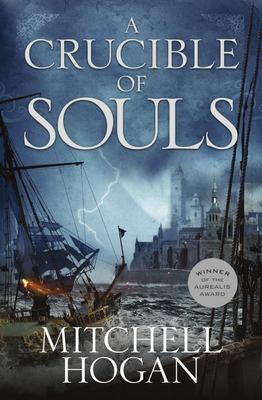 $9.99
AUD
$24.99
(60% off)
Category: Sci-Fi/Fantasy | Series: Sorcery Ascendant Sequence | Reading Level: very good
The Aurealis Award-winning e-book bestseller now in print. An imaginative new talent makes his debut with the acclaimed first installment in the epic Sorcery Ascendant Sequence, a mesmerizing tale of high fantasy that combines magic, malevolence, and mystery. When young Caldan's parents are brutally sla in, the boy is raised by monks who initiate him into the arcane mysteries of sorcery. Growing up plagued by questions about his past, Caldan vows to discover who his parents were, and why they were violently killed. The search will take him beyond the walls of the monastery, into the unfamiliar and dangerous chaos of city life. With nothing to his name but a pair of mysterious heirlooms and a handful of coins, he must prove his talent to become apprenticed to a guild of sorcerers. But the world outside the monastery is a darker place than he ever imagined, and his treasured sorcery has disturbing depths he does not fully understand. As a shadowed evil manipulates the unwary and forbidden powers are unleashed, Caldan is plunged into an age-old conflict that will bring the world to the edge of destruction. Soon, he must choose a side, and face the true cost of uncovering his past. "The story is strong and the writing style simple but assured as a promising new series begins." - Daily Telegraph ...Show more
$24.99
AUD
$29.99
(16% off)
Category: Sci-Fi/Fantasy | Series: A Court of Thorns and Roses
Sarah J. Maas's sexy, richly imagined A Court of Thorns and Roses series continues with the journey of Feyre's fiery sister, Nesta.Nesta Archeron has always been prickly – proud, swift to anger and slow to forgive. And since the war – since being made High Fae against her will – she's struggled to forge t the horrors she endured and find a place for herself within the strange and deadly Night Court. The person who ignites her temper more than any other is Cassian, the battle-scarred, winged warrior who is there at Nesta's every turn. But her temper isn't the only thing Cassian ignites. And when they are forced to train in battle together, sparks become flame. As the threat of war casts its shadow over them once again, Nesta and Cassian must fight monsters from within and without if they are to stand a chance of halting the enemies of their court. But the ultimate risk will be searching for acceptance – and healing – in each other's arms. ...Show more
$31.50
AUD
$32.99
(4% off)
Category: Sci-Fi/Fantasy | Series: Stormlight Archive Ser.
The Stormlight Archive saga continues inRhythm of War, the eagerly awaited sequel to Brandon Sanderson's #1New York Times bestsellingOathbringer, from an epic fantasy writer at the top of his game. After forming a coalition of human resistance against the enemy invasion, Dalinar Kholin and his Knights R adiant have spent a year fighting a protracted, brutal war. Neither side has gained an advantage. Now, as new technological discoveries begin to change the face of the war, the enemy prepares a bold and dangerous operation. The arms race that follows will challenge the very core of the Radiant ideals, and potentially reveal the secrets of the ancient tower that was once the heart of their strength.   ...Show more
$28.50
AUD
$29.99
(4% off)
Category: Sci-Fi/Fantasy | Series: Poppy War Ser.
The exciting end to The Poppy War trilogy, R.F. Kuang's acclaimed, award-winning epic fantasy that combines the history of 20th-century China with a gripping world of gods and monsters, to devastating, enthralling effect. After saving her nation of Nikan from foreign invaders and battling the evil Empr ess Su Daji in a brutal civil war, Fang Runin was betrayed by allies and left for dead. Despite her losses, Rin hasn't given up on those for whom she has sacrificed so much - the people of the southern provinces and especially Tikany, the village that is her home. Returning to her roots, Rin meets difficult challenges - and unexpected opportunities. While her new allies in the Southern Coalition leadership are sly and untrustworthy, Rin quickly realizes that the real power in Nikan lies with the millions of common people who thirst for vengeance and revere her as a goddess of salvation. Backed by the masses and her Southern Army, Rin will use every weapon to defeat the Dragon Republic, the colonizing Hesperians, and all who threaten the shamanic arts and their practitioners. As her power and influence grows, though, will she be strong enough to resist the Phoenix's intoxicating voice urging her to burn the world and everything in it? ...Show more
$18.99
AUD
$19.99
(5% off)
Category: Sci-Fi/Fantasy | Series: Shadow and Bone
Enter the Grishaverse with book one of the Shadow and Bone Trilogy, coming soon to Netflix as an original series. This edition features exclusive cover art from the show!Soldier. Summoner. Saint. Orphaned and expendable, Alina Starkov is a soldier who knows she may not survive her first trek across the Shadow Fold - a swath of unnatural darkness crawling with monsters. But when her regiment is attacked, Alina unleashes dormant magic not even she knew she possessed.Now Alina will enter a lavish world of royalty and intrigue as she trains with the Grisha, her country's magical military elite - and falls under the spell of their notorious leader, the Darkling. He believes Alina can summon a force capable of destroying the Shadow Fold and reuniting their war-ravaged country, but only if she can master her untamed gift.As the threat to the kingdom mounts and Alina unlocks the secrets of her past, she will make a dangerous discovery that could threaten all she loves and the very future of a nation.Welcome to Ravka . . . a world of science and superstition where nothing is what it seems. ...Show more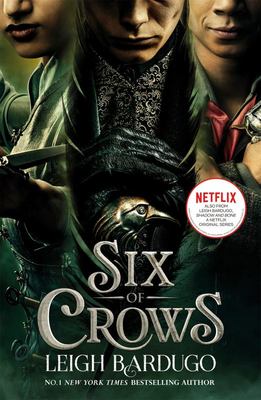 $18.99
AUD
$19.99
(5% off)
Category: Sci-Fi/Fantasy | Series: Six of Crows Ser.
Enter the Grishaverse with the #1 New York Times bestseller Six of Crows, coming soon to Netflix as part of the original series, Shadow and Bone. This edition features exclusive cover art from the show! Ketterdam: a bustling hub of international trade where anything can be had for the right price - and no one knows that better than criminal prodigy Kaz Brekker. Kaz is offered a chance at a deadly heist that could make him rich beyond his wildest dreams. But he can't pull it off alone. . . A convict with a thirst for revenge. A sharpshooter who can't walk away from a wager. A runaway with a privileged past. A spy known as the Wraith. A Heartrender using her magic to survive the slums. A thief with a gift for unlikely escapes. Six dangerous outcasts. One impossible heist. Kaz's crew is the only thing that might stand between the world and destruction - if they don't kill each other first. ...Show more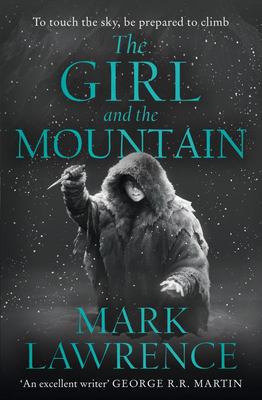 $31.50
AUD
$32.99
(4% off)
Category: Sci-Fi/Fantasy | Series: Book of the Ice Ser.
The second novel in the thrilling and epic new fantasy series from the international bestselling author of Red Sister and Prince of Thorns.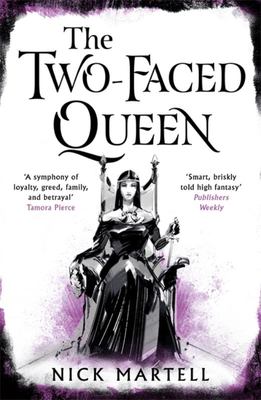 $31.50
AUD
$32.99
(4% off)
Category: Sci-Fi/Fantasy
Michael Kingman thought he was going to die by the executioner's axe, forever labelled as a traitor. Still alive, and under the protection of the Orbis Mercenary company, Michael and his family and friends are deeply involved in the seemingly rival conspiracies that are tearing The Hollows apart. With the death of the King, both the Corrupt Prince and his sister Serena are vying for the throne, while the Rebel Emperor is spreading lies amongst the people, and all of them want Michael dead. This is a story of betrayal, murder, and rebellion, and in this direct sequel to the debut novel The Kingdom of Liars, also some hope for justice. For readers who love the intrigue and widening scope of epic fantasy like Sanderson's Mistborn and Week's The Black Prism, this is your next must-read fantasy series. Praise for The Kingdom of Liars: 'An excellent fantasy debut, with engaging worldbuilding and a good mix between action and character. I thoroughly enjoyed the novel, and look forward to following Nick's sure-to-be lengthy writing career' - Brandon Sanderson, #1 New York Times best-selling author of The Stormlight Archive series 'A symphony of loyalty, greed, family, and betrayal set in an innovative culture!' - Tamora Pierce, #1 New York Times bestselling author of Tempests and Slaughter 'With a smartly plotted story, great world-building, flawed but fascinating characters and plenty of mystery, The Kingdom of Liars is a terrific debut' - James Islington, author of The Shadow of What Was Lost 'A richly rewarding fantasy that seethes with mysteries, fuzed with a mindscrew of a magic system. This, dear readers, is the good stuff' - Jeremy Szal, author of Stormblood 'Nick Martell's debut The Kingdom of Liars lives up to its name, with so many truths and lies interwoven that nothing is as it seems and surprises lurk across every turn of the page. Michael's tale is nothing, if not thrilling' - Ryan Van Loan, author of The Sin in the Steel 'An impressive fantasy debut that creates a solid foundation for (hopefully) a much larger narrative to come...' - Kirkus Reviews "This smart, briskly told high fantasy entertains all the way until the unexpected end' - Publishers Weekly ...Show more